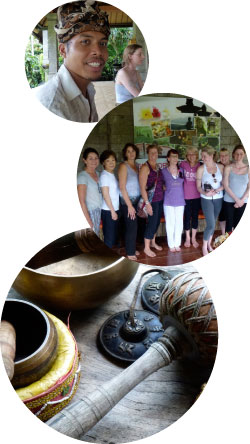 Testimonials
Reviews of our retreats from our students and fellow teachers
I recently joined Sukhjeet and Amjila at a week long retreat in beautiful Bali. What an experience! Not having practiced any yoga for many years, I was concerned about keeping up with the rest of the class, however Sukhjeet put me at ease with her warm, friendly manner and her hands on teaching style helped me overcome my apprehension. By the end of the week I was doing poses and moves that I didnt think was possible! Sukhjeet made the classes informative and inspirational through her passion for Kundalini yoga and we also had lots of fun because she is a character!

To balance the physical demands of the yoga, the class members would met Amjila in an open classroom everyday over looking the beautiful Ubud jungle as he discussed the basics of Tibetan teachings, taking our minds and souls on their own spiritual workout. I had not really known much about Tibetan teaching, and had really only come to the retreat for the yoga experience, however strangely enough the two compliment each other, and by the end of each day there was much to contemplate.

Both Amjila and Sukhjeet clearly love passing on the years of experience and knowledge they have to the retreat members, and I did indeed walk away from the experience with the feeling that I received a very special gift.
Karen, Australia
Before this workshop I had never heard of Kundalini yoga. This workshop has absolutely transformed me. I came here sad, weak and very frustrated in life - but the beautiful, spiritual yoga & tibetan healing has transformed me back into a strong, spiritual, loving woman. I have learned so much and will hold it close to my heart for the rest of my life. Thank you Amjilla for sharing your knowledge and of course, thank you Sukhjeet for sharing your love and spirit through the Kundalini yoga - you both are beautiful spirits.
Leigh Broadfoot, USA
Profoundly healing, very informative taught with love, passion, and humor. Never a dull moment, a completely transformative experience.
Amber Christianson, USA
What I discovered and released was amazing the whole retreat was very relaxing and soul teaching one thing I really feel is the oneness I have with nature and the beautiful and appreciation I have for mother earth. Thank you to Amjila and Sukhjeet for all your sharing and care you have given use all. You both have helped me to open my hearth to a whole new level and a whole new beginning. Thank you again and I will be back. Love and Light.
Rose Ferguson, Australia
It is amazing experience, our teachers, the lovely couple bring joy & love to us. I am very much enjoy the whole retreat. Through we have some language barriers here and there, it still a great experience, I would like to be back again.
Zhang Scarlett, China
I came to this Retreat in particular because it stood out for me - it seemed to be what I needed! I came with anticipation that it would be a life changing experience but not knowing just how. I have not been disappointed, I have pushed there boundaries I have not been able do before now with the help & support of the teacher and the others retreat members. I have released so much turmoil and to attache that has hold me back for years to a place where I can forgive myself at last. My love and gratitude to all concerned.
Susan Forrester, Australia
This was my frist time to Bali and the most amazing experience I have completed for my self. It has been an eye opener and a wonderful opportunity to become one with myself away from the hustle and bustle of life back in Australia. I have opened my heart and discovered life is amazing and I can be a confident beautiful woman spreading love, compasion + healing to those around me and to the human race. I want to comntinue to learn and take time for me so I can grow further.
Kate Forrester, Australia
This was my first yoga retreat so I didn't know what to expect. The yoga itself was not too demanding for beginners and quite enlightening for intermediate yoga practicioners, as Kundalini yoga is quite different from other styles of yoga. The energy we created within our group together Sukhjeet during the yoga sessions was quite powerful and also empowering. The Tibetan healing workshops were a good mixture of theory and putting the theory into practice. Amjila is unasumming and clearly committed to spreading what he has learned in order to help people find their balance. His emphasis on practical, concrete tips and his belief that anyone can do this was very helpful.
GIoia Marini, Netherlands
Truly life changing experience! I came to search within and come to that quiet tranquil place inside my own space and I did recieve. Amazing teachers amazing place. We are all rich inside we just need to be quiet long enough to be graced with our own presence. Thank you so much for sharing your wealth of knowledge + wisdom
Eliza Kanny, Australia
This was a great apportunity to learn about ayurveda and Tibetan Healing within a deeper spiritual context. Sukhjeet was fun, loving and energetic. Amjila balances her with his meditative, reflective and quiet nature. I learned a lot and will use this practical knowledge.
Setsuko Hosoda, China
Enriched & lightening experience, Beautiful surroundings & Amazing energy. Kundalini yoga was amazing.
NIsha Iyer, Australia
I attended Sukhjeet and Amjila's Kundalini and Tibetan Healing workshop in Ubud in April this year, I needed to get away from my life and many problems I had been facing, while I was there I reconnected with who I was as a person and managed to leave behind all my negative emotions. This was down to the amazing retreat and the kindness and love I recieved from both Sukhjeet and Amjila. It has completely changed my life and I would recommend it for anyone who just needs to try something different and wants to change their life for the better. Thank you to both of you for the most amazing experience of my life! - Satnam & all the blessing of the universe to you both
Suzannah Denton, England
Yoga was uplifting a totally harmonious experience the purification ceremony was a peaceful and very personal experience which left you uplifted and truly connected to the heart of Balinese people.
Kay Maddigan, Australia
Wow! what a magical Retreat and in a place of beauty, peace and harmony at Kumara Sakti. It took me out of my comfort zone; breaking a cycle of habits and including challenge and change - in my body, mind & soul. Sukhjeet & Amjila are " gift " from the universe who opened my eyes and my heart and allowed me to "listen to (my) pulse" and "follow the flow" on my journey in this amazing universe. I am so very grateful. Saat Naam.
Tara, Australia
I have learnt the importance of being connected to SHE - Sky, Heart, Earth to achieve balance in my life . Thank you.
Julie Weinert, Australia
Sukhjeet & Amjila lead us on an amazing journey within ourselves this week. What a wonderful, life changing experience.
Sarah Vinch, USA
I love a way you are teaching invent your not English speaking like me! what you offering to us very very excellent, I have learned a lot from both of you event yoga & meditation very thatching my spiritual and about tibetan healing they have very powerful energy, was great, thanks
Satnam
(Sukhjeet's assistant) Wayan, Bali